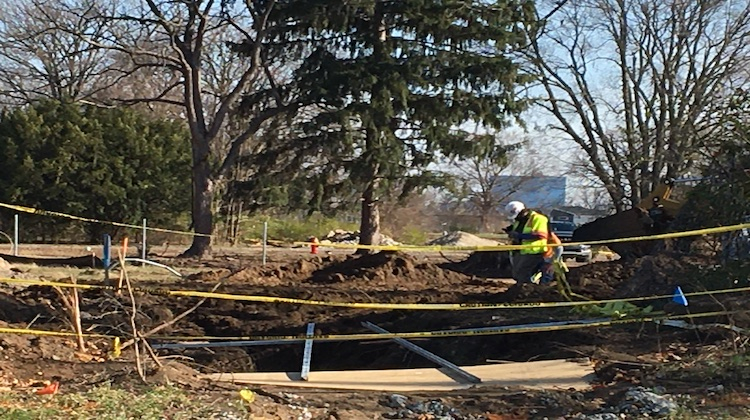 Uncertainty for graves at central state hospital site
It's unclear what the future holds for an effort by the Indiana Museum of Medical History to honor deceased psychiatric patients at Central State Hospital. A recent construction project by the Indianapolis Metropolitan Police Department has unearthed some of the graves. IMPD rents the property from the city.
Museum executive director Sarah Halter said the IMPD started as a partner in the effort to turn the land into a memorial garden, but now doesn't know what will happen next as the 'IMPD has not yet guaranteed that the land will be accessible to the public.
Halter spoke to Taylor Bennett of WFYI News about the situation. Listen to the radio version on the audio link and read on for a longer transcript of the interview
Taylor Bennett, WFYI reporter and presenter: Give us a bit, just a quick summary, of what you were doing there.
Sarah Halter, Executive Director of the Museum of the History of Medicine: We were looking for community partners to help with the landscaping. And the horse patrol was a partner. And they sort of occupied the land, the property of the city, but the horse patrol occupied the land. And we were working with them to make sure it would stay open as a community green space accessible to the public. So, you know, laid out and with a memorial for the patients and actually marking each of the graves.
So in August, with their approval, we started the GPS work, we were using ground penetrating radar with archaeologists from Ball State University, to locate the individual graves and to determine the type of cemetery boundaries. And that's when it all started to fall apart. So we don't know what the future holds for this project. We are still working to identify these patients, tell their stories and interpret the site. But we no longer have the assurance from the IMPD that it will be a publicly accessible site. And we have no assurance that they will not continue to dig as they have been in recent weeks.
Bennett: So why did the IMPD dig, as far as, what were they doing?
Halter: Maybe a year, a year and a half ago, the Mountain Horse Patrol started working with the K-9 unit to sort of share this space that they occupied. So K-9 was brought in, they needed a new facility. And they decided to work with the Mountain Horse Patrol so that it was somehow mutually beneficial, that they both could have the facilities they needed.
The place where K-9 chose to build buttocks against the graveyard. And we reminded them [about the] cemeteries there. They still started to dig. They needed to connect a waterline.
So they started digging a trench through the area we had identified as the graveyard, knowing that GPS analysis would be available and would show where there are graves so they could avoid them. They didn't wait for this. They had no one qualified on site to stop the digging, if there was any evidence of burials they were hitting.
And so, three people ended up in their backfill heap before they stopped working and alerted MNR to it, but it didn't stop there.
So this archaeologist came in and started digging up the bodies that was on the way to the slaughter line. They, you know, got the material out of the backfill pile, and they examined 10 other people, so a total of 13 people. And these will be reburied elsewhere.
But in the meantime, the digging continued, this time underground where it was not visible from the surface. So again, through the graveyard, they started directional digging to run gas and power lines. So damaging. Who knows how many more graves, you know, with no visible evidence of it.
Bennett: Was there no communication?
Halter: No, that's what surprised us the most. You know, those two groups, the horse patrol and K-9, were supposed to have been, you know, partners on this project. And we didn't know until we saw them digging. A coworker of mine just went to find out what was going on. And the construction crew told them that when they started construction on the building, they were told that no one had ever mentioned to them that there was a cemetery nearby let alone that they were encroaching on one.
Bennett: So what will the plan be now?
Halter: I do not know. Uh, you know, we would love to work with IMPD. And ownership of the city, again, belongs to the Metropolitan Development Department. So we would like to work with both to just, you know, protect the cemetery to ensure that doesn't happen again, and to ensure that the people who were exempt are properly reburied in a respectful and transparent manner. But for a few weeks now, IMPD has not communicated with us at all.
Since all of this has happened, they have been very quiet about what they are doing. We don't know where they are.
Once again, they have not given us any assurance that this project will be able to proceed as initially planned. They gave us no assurance that there would be no further destruction in the cemetery. And so we don't really know what the future holds.
You know, we are continuing our work to sort of rehumanize these patients, to give them back a dignity and a voice that they did not have in life. But as to what that looks like in the graveyard, we just don't know at this point. They haven't been in contact with us at all. They don't return our calls.
Bennett: Okay, thanks for your time, I appreciate it.
Halter: Okay goodbye.
WFYI asked IMPD to comment on this report and received the following statement:
IMPD contractors began construction of the IMPD K9 training center in August 2020 based on plans reviewed and approved by the Ministry of Neighborhood Affairs and Services and the Ministry of Metropolitan Development and protocols established by the Ministry of Natural Resources of Indiana for processing archaeological finds.
In October, contractors halted construction and immediately informed the IMPD and MRN of the discovery of human remains during the installation of a water pipe. As specified in the MNR plan, the contractors consulted an archaeologist before resuming work, and the archaeologist will remain on site for the remainder of the project.
IMPD will continue to work with its contractor, the on-site archaeologist, city departments and state officials to ensure these people receive the appropriate and respectful resting place they deserve.