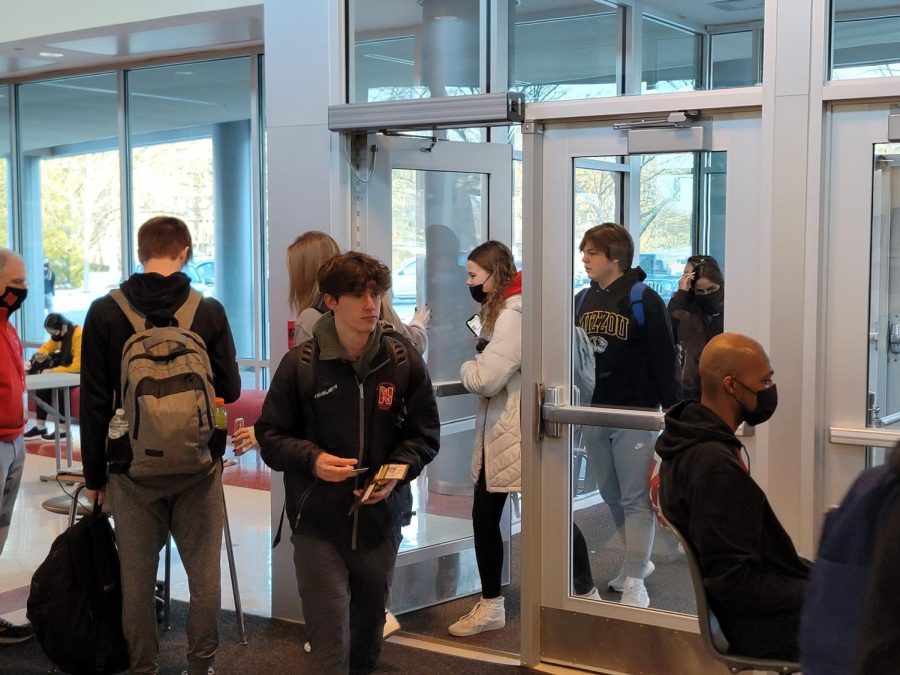 Naperville Central, District 203 see first day of optional mask instruction – Central Times
Cameron Rozek, Managing Editor and News Editor
February 15, 2022
Face coverings will be strongly recommended, but not required, for all students, staff and visitors to Naperville District 203 facilities beginning Tuesday, Superintendent Dan Bridges wrote in a Feb. 13 post.
The change was made based on "local health metrics and the district's ability to successfully mitigate risk," according to the announcement sent by Bridges, which followed an emergency Board of Education meeting. . The district also said it believes changing mitigation strategies is now safe in a learning environment, citing both District 203 ZIP codes and DuPage County's above-average vaccination rate. . Regardless of the rules within the school, masks must always be worn on school buses in accordance with federal guidelines.
The policy change comes after a number of complaints from parents and students and a protest last Wednesday. However, those protests were not considered in deciding how to lift the mask requirement, said Alex Mayster, executive director of communications for District 203.
Several parents also threatened legal action at the February 7 Board of Education meeting, but it is unclear whether legal action had any bearing on the decision. Mayster did not respond to an interview request.
"I expect to see some students with masks and some without masks," Principal Bill Wiesbrook said. "I've spoken to principals at some surrounding schools who have already switched to masks and they see about 50% wearing masks and 50% not wearing masks."
Many students say they welcome the unmasking option.
"I'm cool with it," junior Duncan Foley said. "I support people's right to choose. If someone tells me to put it on I'll put it on but other than that I don't really care.
Some will continue to hide.
"I will continue to wear my mask out of respect for others," said sophomore Harry Yu. "But I understand the decision probably wasn't taken lightly. There are a lot of people pushing from the top.
Many teachers are preparing for the change by spacing out desks in classrooms to maintain social distancing. Teachers do not have the authority to require students to wear a mask in their classrooms.
"Teachers shouldn't be telling students to put on masks," Wiesbrook said. "We want to respect everyone's decisions.
For those who decide to continue wearing masks, schools are being supplied with KN95 masks which can be collected or distributed upon request. KN95 masks offer similar levels of filtration to N95 masks, both of which are more effective than regular surgical masks in preventing the coronavirus from entering the respiratory system.
Quarantine guidelines have been adjusted in parallel with masking rules. People diagnosed with COVID must self-quarantine for at least five days. Close contacts of COVID cases will not be required to self-quarantine, but will be strongly encouraged to do so.
In her letter to the community, Bridges says that if health metrics or mitigating circumstances change, the decision of whether or not to require masks may be reassessed in the future.