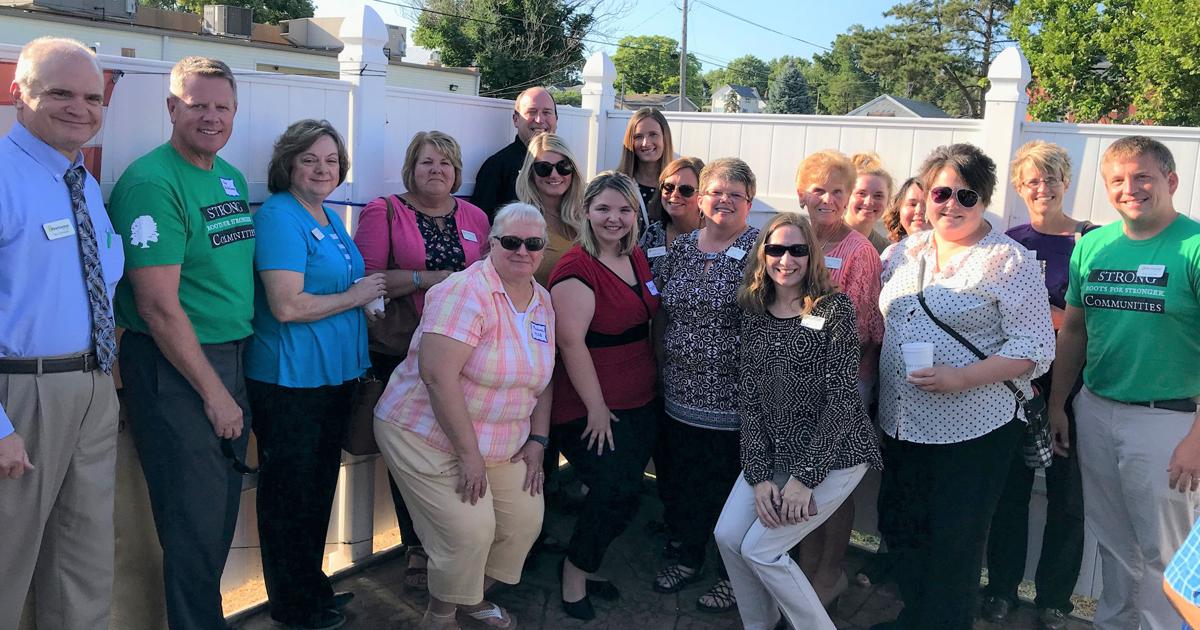 First Central State Bank makes its mark in Clinton, Goose Lake | Gallery
CLINTON — 2019 has been a busy year for a longtime Clinton County financial institution.
An ongoing renovation project in Goose Lake, a merger and ongoing adjustments to a new banking climate marked a turbulent year for First Central State Bank. Despite continued growth, First Central State Bank CEO and Chairman Brigham Tubbs said the bank has never lost its core mission of making a positive difference for its communities.
"2019 was a great year, with a lot going on at First Central State Bank," Tubbs said. "Through it all, our team did a great job. Everyone remained focused on client care and community involvement. We talk every day about supporting our communities, our neighbors and our customers. Combining our two banks presented some challenges, but through it all, our team stayed focused. As a result, we have provided a broader branch network in Clinton and Scott counties, which benefits our customers and helps our communities grow.
And the communities in which First Central State Bank serves grew by two at the start of 2019. It wasn't as if the merger featured outsiders, though.
The former Gateway State Bank merged with First Central State Bank in February. The merger affected two Clinton locations at 2600 Lincoln Way and 1427 N. Second St., and a Goose Lake location at 223 Main St.
Both institutions were part of the holding company Ohnward Banchshares, which is a billion-plus holding company based in eastern Iowa. Ohnward is locally owned by shareholders living primarily in Jackson, Clinton, Scott, Jones and Linn counties. The holding company was established in 1967 by John Fagerland and Edward Tubbs. The Fagerland and Tubbs families are still involved in the day-to-day operations of Ohnward Bancshares and its eastern Iowa-based financial institutions.
Senior Vice President Paul Mulholland, who leads the Clinton and Goose Lake teams, said the name change went well, thanks to the familiarity already established between the two banks and the continued involvement of the First Central State Bank in the community.
"Of course there were nerves at times when the process started," Mulholland said. "But those quickly faded when we came together as one big team with the rest of the First Central State Bank locations. And once the name change took place in February, the process couldn't have been smoother, thanks in large part to the relationships we've built and our strong involvement in the community.
Being part of the First Central State Bank family has added more locations to residents of the Gateway area. The First Central State Bank has branches in Clinton, DeWitt, Eldridge, Goose Lake and LeClaire. The proximity to these locations has been an added benefit for customers traveling between these eastern Iowa communities.
"We've heard from a number of our customers telling us how much more convenient it is now to have additional locations," Mulholland said. "People's lives are busy. Whether traveling for work or for a child's activity, we know time is precious to many of our local families. That's why this name change has been so welcomed, not only because of the residents who travel to Clinton and Goose Lake, but also because of the residents of Clinton who travel to our other locations in DeWitt, Eldridge and LeClaire.
First Central State Bank has also long encouraged its employees to get involved in the community and donate to organizations that contribute to the growth and general well-being of the community.
Over the past few months, Grilling For Charity fundraisers, a decade-long staple of Ohnward Banscshares, have generated thousands of dollars for Clinton County organizations. Recipients of these donations in 2019 included Charlotte Area Activity Center, Information, Guidance and Assistance Services, and DeWitt Guidance Center.
More Grilling For Charity fundraisers will take place this month, including two scheduled for Friday, September 20, which will be held at the Goose Lake and Eldridge locations. The Goose Lake fundraiser will benefit the Northeast Athletic Boosters and will take place from 11 a.m. to 1 p.m. at the Goose Lake location.
The Eldridge Grilling For Charity will benefit the Walk for Travis for Suicide Prevention group. These fundraisers, along with the bank's regular donations to area organizations and the Pay It Ohnward program, which provides $100 to employees to go to a nonprofit or local family in need, align with the mission. of the bank to contribute to the communities in which it serves, Tubbs said.
"Giving back to our communities defines who we are," Tubbs said. "That's why we're proud that our team members are so involved in community organizations and why we're looking for ways to support the continued growth of our communities.
This growth has resulted in more investment by First Central State Bank in its locations. In recent years, DeWitt's First Central State Bank has been renovated. In 2019, it was Goose Lake's turn.
Construction crews arrived on site in late March to tackle the major upgrade at the Goose Lake facility. The renovation project included interior and exterior additions, with the bank's interior including a new conference room, an updated teller line, and several additional offices.
Outside, customers are now greeted by a new parking lot and drive-thru that includes an ATM. Interior renovations are not yet complete.
"Goose Lake and surrounding communities have long supported our Ohnward Bancshares institutions," Tubbs said. "This renovation project has created an even more customer-centric approach to the Goose Lake area and we are pleased to further invest in this community.
These investments do not stop after this renovation project. First Central State Bank remains committed to investing in new technologies to keep pace with the evolving banking industry through its mobile banking features, including mobile check deposits, person-to-person payments, SecurLock and more.
Through all of the growth and developments, Tubbs said First Central State Bank will remain committed to investing in its communities and maintaining a community-focused approach.
"We love building relationships with our community members and businesses," Tubbs said. "This has been a priority from day one at Ohnward Bancshares and will continue into the future."