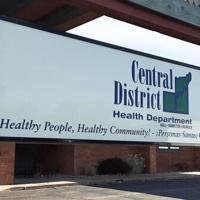 Central District Health Department Approves Staff Retention Bonuses Amid Pandemic | Grand Island Local News
As new COVID-19 cases continue to rise in the Grand Island area, the Central District Health Department Board of Directors has approved retention bonuses for current staff members.
CDHD has 32 full-time employees and three temporary positions.
At Monday's CDHD board meeting, board chairman Ron Peterson reported that a committee of the board had recommended the bonuses.
After the first year of employment, staff members will receive a 20% bonus.
Total staff bonuses for the first year will be $37,718.
A 30% bonus after the second year and a 50% bonus after the third year were also approved.
The total premium payment for the three-year period, including taxes, is expected to be $300,369.80.
Peterson said there was a need to retain CDHD staff.
"We looked at a number of different ways to handle this," he said Monday. "It's been an extremely difficult time for them in terms of their time and energy, as well as the issues they've had to deal with both publicly and through investigations, that sort of thing."
CDHD staff members have also been exposed to people infected with the coronavirus.
"A lot of them had to take time off because they were sick," Peterson said.
The number of new COVID-19 cases and positivity rates have reached record highs in CDHD's coverage area, which includes Hall, Hamilton and Merrick counties.
The district currently has a positivity rate of 63%, with 1,400 cases in the past seven days and one new death, according to CDHD's COVID dashboard, which was updated Tuesday.
This beats the record set on Wednesday January 12 of 870 new cases over a seven-day period.
Before, the record was 710 new cases and 45.4% positivity in November 2020.
CDHD attributes the new records in part to the "extremely transmissible" omicron variant, which first appeared in the Grand Island area in mid-December.
The community transmission dial is at its peak – at "high transmission".
Vaccination is the most effective way to prevent COVID-19 and avoid the worst symptoms, according to a post on the CDHD Facebook page.
Other mitigation efforts include wearing tight-fitting surgical masks in public, social distancing and testing if you develop symptoms.
CDHD Director Teresa Anderson said the intent of the retention bonuses is to "keep together this fabulous COVID team that has grown over the past two years."
"We want them to continue in their positions as they are, rather than seeing them leave us because they burn out or because they can go elsewhere for more money," he said. she said Monday.
It's already happening, Anderson reported. A receptionist who was treated with hostility by the public took another job and a nurse was recruited by a traveling nursing agency.
"We're not necessarily rewarding (staff) for past performance, but to show them that the board is committed to them and keeping them in place for the next three years," Anderson said.
Peterson said WIC (Women, Infants and Children's Program) staff at CDHD would not be eligible for the new bonuses because they are employees of the Nebraska Department of Health.
WIC staff are also mostly working from home and have not been called in for "extra time or duties."
"We felt it would be reasonable to work to reimburse staff who have COVID knowledge, expertise and skills," Anderson said.
Board member Chuck Haase, who led the committee, called the effort "inclusive," with the exception of WIC employees.
"We can put that money aside right now and have it as a three-year one-time program, and it's fully funded to start with," he said. "We will, and anyone we hire during those three years will be eligible for those payments."
He added: "We think it's something we share with the staff and also shows our appreciation for them."
Peterson said the key to providing such a bonus is having sufficient funds.
"It's something that a number of health departments across the states are doing because they've been able to generate that extra money by doing injections and with FEMA money," he said. .
CDHD had a fee-for-service arrangement through the Nebraska Department of Health and Human Services using Federal Emergency Management Agency dollars.
Through this agreement, CDHD received $40 per COVID vaccine or booster shot.
This contract ended in July 2021.
Due to internal efficiencies, CDHD realized a net income of approximately $300,000.
"We can put that money aside in an account and know it's being taken care of," Peterson said. "We felt like it made a lot of sense to know what our obligation might be, and any new employee that comes in might be eligible for part of it, depending on their work that year."
For COVID-19 advice and other community resources, visit cdhd.ne.gov.
brandon.summers@theindependent.com