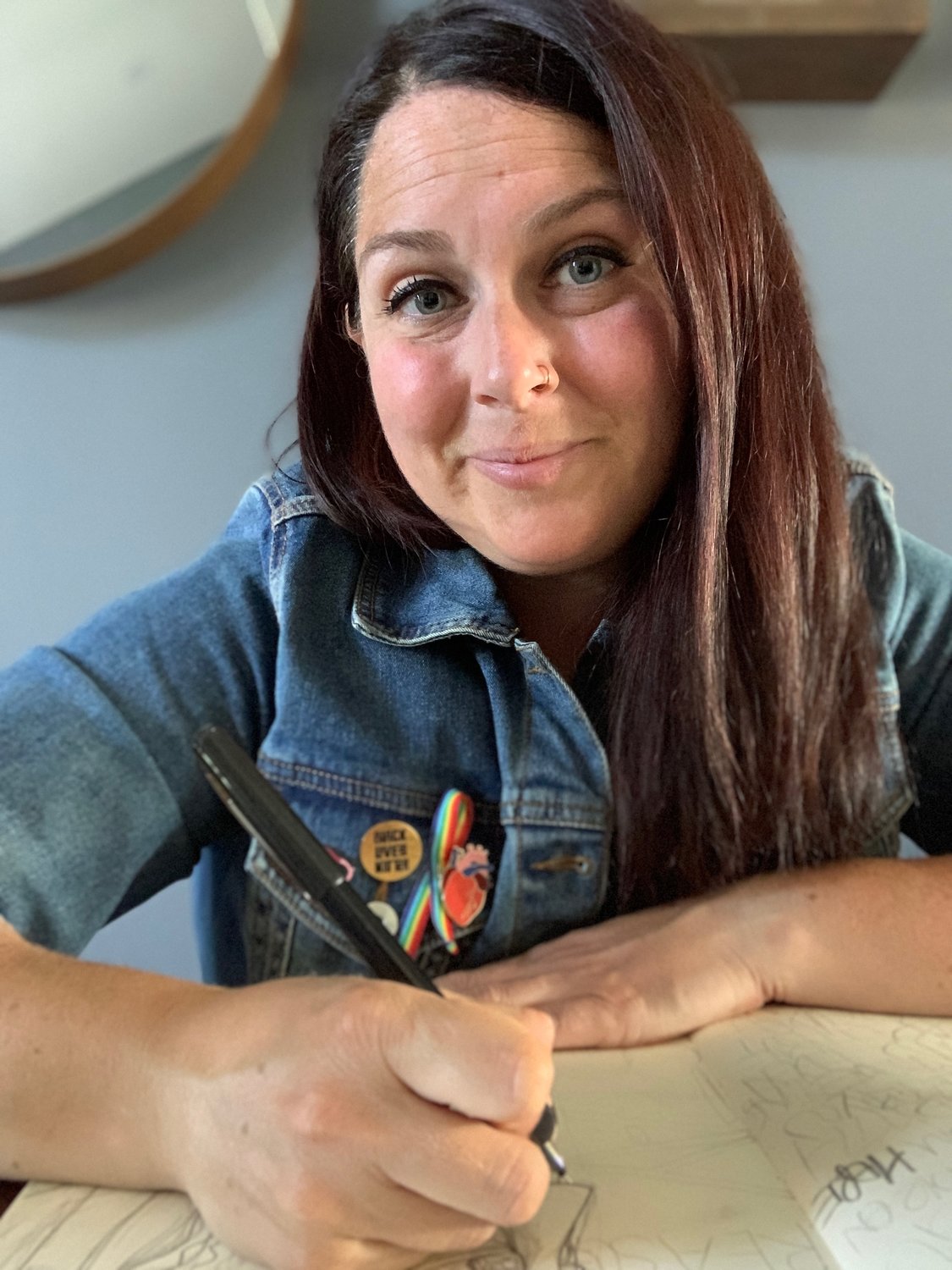 art teacher of the central district is the best educator | Herald Community Newspapers
Last month Lisa Federici, an art teacher at Wellington C. Mepham High School in Bellmore, was named the 2021 Regional Art Educator of the Year by the New York State Art Teachers Association. She won the Region 9 award in New York City, which is Nassau County.
A 14-year teacher, Federici told the Herald she was "very lucky" to have spent her entire career so far in the Bellmore-Merrick Central School District. After starting at John F. Kennedy High School, she went on to teach at Merrick Avenue Middle School before moving to Mepham, where she has been for the past five years.
Federici, originally from Farmingdale and now living in Suffolk County, teaches Studio Art, an introductory course, and Creative Suite, Bellmore-Merrick's digital art program. The very different classes, she says, give her the chance to work with different types of students. "Creative Suite is an amazing class that allows kids to be creative, but not while being a traditional art student," she said. "It's such a fun class – it brings together kids from all walks of life. "
Federici also teaches five levels of sculpture, with levels 1 and 3 in the fall and levels 2 and 4 in the spring. The Level 5 class is more of an independent program, she explained, typically only attracting a handful of students if it works.
"It's such an amazing experience teaching an art class," she said. "Even for kids doing it just for a graduation requirement, seeing them engaged is exactly why I'm a teacher – art is just an added bonus."
There is a nomination process for the Art Educator Award, and a friend of Federici, a teacher at Rockville Center, has let him know that she has sent a nomination on his behalf. The others who named her have all remained anonymous.
The New York State Art Teachers Association is a professional organization for teachers. "I was informed in the spring that I would be the winner in 2021," Federici said. "[The ceremony] was in Binghamton for the 73rd Annual NYSATA Conference.
One winner was chosen from each of the 10 regions, along with a statewide winner.
"Ms. Federici is incredibly deserving of this award," said Cheryl Fontana, Director of Fine and Performing Arts in the Bellmore-Merrick District. "Her passion for the art combined with her vast knowledge and skills make her d 'she is a real asset for our department.
"Whether it's coming up with new courses, involving your students in various competitions or submitting exhibitions, exploring field trip options or just sharing lessons with colleagues," added Fontana, "Lisa continually finds ways to help grow our program while inspiring her. students to be the best young artists possible.
Besides teaching, Federici is also an artist outside of the classroom. "I'm actually a fiber and mixed media artist, so I create artwork with recycled fabric," she said. "Sometimes I apply for shows and get in there. I am a local artist, mainly on Long Island.
She recently received an honorable mention for her play "Pinned Rapture and Melancholy".
"Right now I have artwork on display in Northport," she said. "And I was just on a virtual show in California. I'm just trying to get my artwork out there so people can see it and so I can see what their reaction would be.
Federici was honored at the December 1 meeting of the Bellmore-Merrick Central High School Board of Trustees, where Superintendent Mike Harrington and Board Administrator Melissa Cmar-Grote also praised her and her dedication to the school, its students and arts education.
"Many art teachers in Bellmore-Merrick and across Long Island view her as a resource and appreciate her enduring dedication," said Cmar-Grote. "Lisa's commitment to our students, her colleagues and her community is truly appreciated. We congratulate her on this recognition and look forward to seeing her continued growth within Bellmore-Merrick. "
"I'm so grateful to be recognized and to be recognized for something I do," Federici told the Herald. "It's a great feeling, and I'm really grateful."